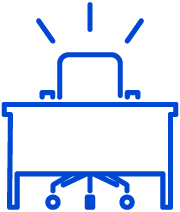 Meet our elegant and functional offices
We have 12 offices of different sizes, with a capacity of between 2 to 18 people, fully furnished and independent and capable of accommodating a total of 57 people. Elegant and bright, they are ergonomically prepared spaces, and are equipped with the latest technology and maximum security.
Capacity to accommodate 57 people
Any office you choose you will enjoy the same comforts
Screens with double glass with high acoustic insulation. Access control and 24h video surveillance.
Quality furniture, large tables, lockable cabinets and filing cabinets and ergonomic chairs.
Ergonomic and Pleasant Space
Efficient natural and artificial lighting, individually controlled air conditioning and heating.
All supplies are included in the rent (water, electricity, community fees, IBI, cleaning,…).